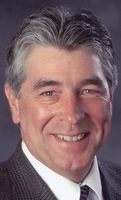 Scott Crathern
Owner/ Broker
Scott Crathern
Minimize the hassles. Maximize the biggest investment of your life!
Let me utilize my 25 years in international sales to produce results for you. As an agent for either buyers or sellers, the understanding of customer's concerns is of the utmost importance. My business experience has taught me that success is communication with outstanding service combined with honesty, integrity and loyalty. My knowledge will allow me to counsel you through all facets of the real estate transaction.
I'll be happy to assist you in the arduous task of searching and locating the property that says it's home to you.
Whether you're a first time buyer, downsizing or in need of a more spacious home, let me help you. If you're relocating, I am a native of the area with extensive knowledge of the state and I enjoy showing New Hampshire to new-comers. My selling experience ranges from antiques to new construction with everything in between.
My enthusiasm, resources and tenacity can help you to minimize the hassles and maximize your investment when it comes time to buy or sell your home.
References available upon request.
Give me a call at 603-224-1100.
CREDENTIALS & AFFILIATIONS
25 years business experience
Education is always on going
Co-owner Village House Real Estate LLC
New Hampshire licensed Real Estate Agent
Member Concord Board of Realtors
Member New Hampshire Board Realtors
Member National Board of Realtors